Heritage Auctions is pleased to be returning to Hong Kong with another outstanding assortment of wines for your collecting and drinking pleasure. The event will begin promptly at 9:00 AM on Saturday, September 29 when we will be serving breakfast and refreshments. Lunch will also be served along with champagne and wine throughout the day. The list of wines to be tasted includes, but is not limited to:
1999 Sauzet Puligny Montrachet, Les Folatieres
1997 Ramonet Bienvenue Batard Montrachet
2003 Jadot Montrachet
1990 Cos d'Estournel
2000 Cos d'Estournel
1996 Leoville Las Cases
1990 Cheval Blanc
1995 Clos de l'Obac
2002 Blankiet Cabernet Sauvignon
2005 Blankiet Cabernet Sauvignon
2000 Marcassin Pinot Noir, Three sisters, Lambing Barn
We hope you will come and join us!
Warm regards,
Frank Martell and the Heritage Wine Team
Highlights from the auction include but is not limited to:
Session Times:
Signature Floor Session 1 - (Lots 1-1179) - 8:00 PM CT (6:00 PM PT), Friday, September 28, 2012.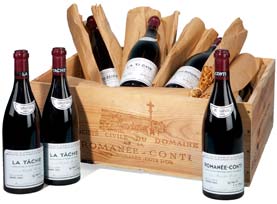 allows you to place late proxy bids and compete live against the auction floor from your PC or mobile device*. We recommend placing proxy bids before the live session in the unlikely event either side experiences technical problems during the auction.
*The software is available for Android, Safari for iPhone, and Opera Mobile version 10+. More will be supported in the coming months.
A buyer's premium is charged in addition to the successful bid. The applicable Buyer's Premium for bids placed with Heritage for this Auction is 19.5% (minimum $14 per lot) of the successful bid.
If you would like to be notified of specific wines, please visit MyWantlist, where you can save searches for wine by keyword (Dom Perignon), or by type (Red Bordeaux). We will notify you when anything that matches your searches becomes available at auction!
For more information, a free catalog subscription or a free valuation of your cellar, please contact Frank at FrankM@HA.com or 800-872-6467 extension #1753 (310-492-8616 direct). General inquiries may be directed to Wine@HA.com.
We look forward to extending our impeccable level of excellence in this new category and further serving your collecting needs. Please feel free to reach out if you'd like to discuss buying, selling or just introduce yourself to our specialists. We are accepting consignments on an ongoing basis, so send in those lists!
Very best regards,
Frank Martell & The Heritage Wine Team
Bid@HA.com
9478 Olympic Blvd., Suite 100
Beverly Hills, CA 90212
1-800-872-6467
Free Appraisal in any category.

www.HA.com
Categories:
Art & Antiques
Books
Charity Auctions
Coins
Comics
Currency
Entertainment & Music
Historical
Jewelry, Timepieces & Luxury Accessories
Movie Posters
Natural History
Sports Collectibles
Wine